What's new?
09.08.14
- Zosia is partnering with Bayer HealthCare:
Bayer HealthCare today announces the Skyla Make Your Mark contest, designed to inspire and celebrate women who are looking to make their mark on the world. In a joint project with Glamour and actress Zosia Mamet of the HBO hit TV series Girls, the nationwide call for entries into the Skyla Make Your Mark contest is open to U.S. residents over the age of 18, now through October 1. [ article ]
"We all have stories, and they all deserve to be heard," said spokeswoman Zosia Mamet. "Glamour, Bayer and I want to give women a platform to share their stories and to show the world how they're making their mark. We all make our marks in different ways; what's yours?"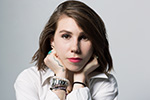 Are you an aspiring entrepreneur, athlete or philanthropist? However you are pursuing your dream, we want to hear about it.
One inspiring lady will win a $5,000 grant and a fabulous trip to NYC to attend Glamour's star-studded Women of the Year gala, and will be featured on a promotional page in an upcoming issue.
From Zosia's Twitter (@ZosiaRMamet): #Sponsored: Partnering with Bayer and @Glamourpromo to help inspire women. Enter the contest! http://glmr.me/Yd34fJ

What's New for 2016: Jan | Feb | Mar | Apr | May | Jun | Jul | Aug | Sep |
What's New for 2015: Jan | Feb | Mar | Apr | May | Jun | Jul | Aug | Sep | Oct | Nov | Dec
What's New for 2014: Jan | Feb | Mar | Apr | May | Jun | Jul | Aug | Sep | Oct | Nov | Dec
What's New for 2013: Jan | Feb | Mar | Apr | May | Jun | Jul | Aug | Sep | Oct | Nov | Dec