What's new?
08.19.14
- Zosia's ad for
The Gap's "Dress Normal" campaign
: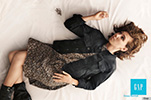 08.13.14
- New column from Zosia in
Glamour
!
Zosia Mamet Opens Up About Her Personal Eating Disorder Struggles
Do you have a secret? Is your secret something that could kill you, a silent gnawing feeling that's slowly melting you away, little by little, something deadly that nobody else can see? Mine is. And it is this: I've struggled with an eating disorder since I was a child. This struggle has been mostly a private one, a war nobody knew was raging inside me. I tried to fight it alone for a long time. And I nearly died.
But the truth is, I'm not alone. I have come to discover that 30 million other Americans share the same secret. In fact, I would venture to say it's a rarity to find a woman without body issues of some sort -- not a full-fledged disorder, perhaps, but a skewed view of her body, a dislike of her shape, a desire to be thinner, bustier, taller, different. It's so common. And yet we're so ashamed of those feelings that we don't talk about them. And that's where we get into trouble. [ Full article ]

What's New for 2016: Jan | Feb | Mar | Apr | May | Jun | Jul | Aug | Sep |
What's New for 2015: Jan | Feb | Mar | Apr | May | Jun | Jul | Aug | Sep | Oct | Nov | Dec
What's New for 2014: Jan | Feb | Mar | Apr | May | Jun | Jul | Aug | Sep | Oct | Nov | Dec
What's New for 2013: Jan | Feb | Mar | Apr | May | Jun | Jul | Aug | Sep | Oct | Nov | Dec